What Is DMD?
How VILTEPSO Works
Taking VILTEPSO
WHAT IS DMD?
Duchenne muscular dystrophy (DMD) is a rare genetic disease that results in muscles becoming damaged and weaker over time.
DMD is caused by a missing or mutated part of the gene that produces dystrophin.
With a mutation or deletion in the DMD gene, the body produces unusable dystrophin that can't properly support muscle function.
EARLY DIAGNOSIS IS KEY to helping manage progressive muscle weakness and functional decline in patients with DMD.
For muscles to function properly, they need a protein called DYSTROPHIN
Sign up to receive updates about VILTEPSO
Keep up to date on our latest news and developments.
Stay Informed
Discover NS Support and find links to helpful resources
We're committed to being a partner to families coping with DMD.
Get Support
Interested in clinical trials for Duchenne muscular dystrophy?
To inquire about ongoing or future VILTEPSO clinical trials, please email us at: trialinfo@nspharma.com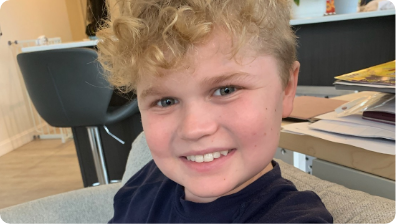 Taking VILTEPSO
VILTEPSO is a once-weekly intravenous (IV) infusion that can be given by a healthcare professional at home or at a treatment center.
Here are a few questions you may have about taking VILTEPSO:
An IV infusion goes into the patient's bloodstream through a small needle and tube. It is a FAST way to get medication directly into the body.
Q:
How much medication is in each VILTEPSO dose?
A healthcare provider will calculate the dose based on the patient's body weight. 80 MILLIGRAMS of VILTEPSO is given for each kilogram (a kilogram is approximately 2.2 pounds) of weight per week.
Q:
How long is the infusion?
The infusion lasts 60 MINUTES. But plan for some extra time before and after treatment in case there are questions for the nurse, or the patient needs post-treatment observation.
You can download our helpful guide to starting VILTEPSO, along with our infusion overview guide.
REMEMBER, A DOCTOR IS ALWAYS YOUR BEST RESOURCE FOR information about DMD and determining if VILTEPSO could be the right treatment option for you.
For more information about DMD, exon skipping, and VILTEPSO, you can download our caregiver and patient guide
DOWNLOAD THE GUIDE